The Sesquicentennial of the Birth of Gauss
From Gauss' Children
By G. Waldo Dunnington
Washington and Lee University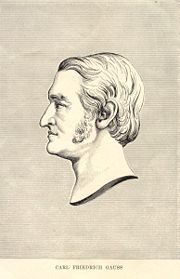 On April 30, 1927, fell the one hundred and fiftieth anniversary of the birth of Carl Friedrich Gauss, the mightiest mathematician since the day of Sir Isaac Newton. Indeed some writers have ranked him as the equal of the latter, but this question had better be left undecided, since Gauss himself would be the first to give place to Newton, to whom he always applied the adjective summus. Gauss has been called the "prince of mathematicians" and "Archimedes of the nineteenth century."
It seems that the higher the genius of a man, the later does a definitive biography of him appear, notwithstanding the recent flood of biographies. Several monographs in German have been published, but as yet no definitive biography of Gauss has appeared. A committee of scholars at the University of Göttingen is still engaged in editing the works of this scientist, and in studying notes left at his death. In the rooms he formerly occupied there has been fitted up a Gauss-archive.
Gebhard Dietrich Gauss was born on February 13, 1744, and assisted his father in business at Brunswick, Germany. On April 28, 1768, he married Dorothea Emerenzia Warnecken Solerich, and to this union was born one son, Johann George Heinrich, on January 14, 1769. The mother died on September 5, 1775, aged hirty years. Gebhard Dietrich married (on April 25, 1776) Dorothea Bentze, the daughter of Christopher Bentze, a stone mason in Velpke, a small village near Brunswick. Their only child, Carl Friedrich Gauss, was born on April 30, 1777.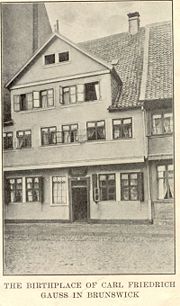 The house where this important event occurred has been well preserved. The late George Hieb was largely responsible for the establishment of a room in this house at No. 30 Wilhelmsstrassee (formerly Wendengraben), where one may see all sorts of Gauss relics, such as furniture, letters, books, photographs of his near relatives, and many descendants.
Dorothea Gauss reached the ripe old age of ninety-seven and spent the last twenty-two years of her life under the loving care of her son at the Göttingen observatory. Gauss and his father never had any quarrels, but in his home Gebhard Dietrich was often dominating and uncouth. He died on April 14, 1808.
According to Gauss' own story, his mother could not tell him the exact day on which he was born; she only knew that the birthday fell on Wednesday, eight days before Ascension. This circumstance was the occasion of his discovering the formula by which one can reckon the day of the month on which Easter falls, for any year.
He often said that he could count before he could talk. Many stories are told of his precocity. At the age of seven, in 1784, he was sent to school, and for two years instructed by Büttner in reading and writing, with nothing as yet appearing to distinguish him especially from his fellow pupils. However, when he reached the arithmetic class he soon attracted the attention of Büttner.
Johann Christian Martin Bartels was Büttner's assistant, and a young mathematician of no mean ability. He took a great interest in this promising young child, furnished him the necessary books and taught him the theory of infinite series and analysis. In 1788, young Gauss entered the gymnasium; here he showed great ability in the ancient languages. Through Bartels, Privy Councillor von Zimmerman informed the Duke of Brunswick, Carl Wilhelm Ferdinand, in 1791, about the case of Gauss, whose father was opposed to the continuance of his education. The duke resolved to furnish further means for the child's education.
As a protégé of the duke, Gauss entered the Collegium Carolinum in 1792. There he learned modern languages and continued his study of the ancient languages. Even at his age this youth carried on private mathematical researches during this period. In 1795, Gauss entered the University of Göttingen, still undecided whether to devote his life to mathematics or philology. On March 30, 1796, one event, more than any other, enabled him to decide this question, viz., the discovery of a method of inscribing a regular polygon of seventeen[1] sides in a circle, with straightedge and compasses. Gauss always considered this one of his greatest discoveries, possibly due to the fact that it had escaped the eyes of mathematicians for two thousand years. The complete theory of circle-division and primes was elaborated in his immortal work, "Disquisitiones arithmeticae" (1801). This treatise is widely conceded to be the greatest piece of human ingenuity since the publication of Newton's "Principia." The visitor to the park in Brunswick today can see on the Gauss monument there a regular polygon of seventeen sides engraved on the base. This monument is by Schaper.
In a letter to Schumacher, Gauss says that he had used the method of least squares since 1794. One of Gauss' student friends was Johann Joseph Anton Ide, also from Brunswick; he became professor of mathematics at the University of Moscow, and died there in 1806. However his most intimate friend was Wolfgang Bolyai, a Hungarian who was somewhat older than Gauss. They would take long walks together, discussing metaphysical views on mathematics. A frequent topic of conversation was Euclid's axiom of parallels; many prominent scientists had made attempts to prove this axiom. It later occurred that Bolyai's son Johann published a little volume on non-euclidean geometry. Gauss read this, praised it highly, said that the contents coincided with his own investigations, and declared that he was glad to have been anticipated in this field by the son of his old friend. The correspondence between Bolyai and Gauss continued up to the death of the latter.
On July 16, 1799, Gauss received his doctorial degree; the thesis topic was: "Demonstratio nova theorematis omnem functionem algebraicam rationalem integram unius variabilis in factores reales primi vel secundi gradus resolvi psse." This was the first rigorous proof of the fundamental theorem of algebra, which he had already discovered in October, 1797. He gave two new proofs in 1815 and 1816; on July 16, 1849, at the celebration of his fiftieth anniversary of attaining the doctorate, Gauss gave the first proof of 1799 in altered form.
On New Year's day, 1801, Piazzi in Palermo discovered a star of the eighth magnitude, which he thought was a new comet. Piazzi's excellent observations showed that this body moved in a circular orbit, rather than a parabolic orbit, as required for a comet, between Mars and Jupiter. The astronomer Olbers, an intimate friend of Gauss, rediscovered this planet and informed him about it. He at once set to work to calculate the orbit from the given data, according to Kepler's laws. Suffice it to say, he formulated a method of computing elliptic orbits, which placed him in the first rank of astronomers for all time. This asteroid was later named Ceres. In the summer of 1802 he took observations of Pallas. The direct outcome of this work in astronomy was the publication at Hamburg in 1809 of his "Theoria motus corporum coelestium in sectionibus conicis solem ambientium." for this epoch making work he received the Lalande prize of the French Academy in 1810. In 1802 the Czar of Russia had attempted to secure Gauss as director of the observatory at the Petrograd Academy and later efforts were made to secure him for Berlin and Vienna, but all these overtures failed.
After his return from Göttingen, Gauss was a frequent visitor at the home of George Carl Ritter in Brunswick. Here he became acquainted with Johanna Osthoff in 1803; she was the daughter of Christian Ernst Osthoff, a man of moderate means, proprietor of a local tannery. Johanna was the only child, born on May 8, 1780, the pride of her parents, spirited, kind, happy and gifted with understanding. From the very beginning Gauss felt himself attracted to her, and on July 12, 1804, wrote her the following letter:
My true friend, receive favorably the fact that I pour out my heart, in writing, before you, about an important matter, regarding which I have found no proper opportunity to mention up to the present.
Finally, let me say it from the fullness of my heart, that I have a heart for your silent angelic virtues, an eye for the noble features which make your face a true mirror of these virtues. You, dear modes soul, are so far removed from all vanity that you yourself do not realize you own value; you don't know how richly and kindly heaven has endowed you. But my heart knows your worth -- O! more than it can bear with repose. For a long time it has belonged to you. You won't repel it? Can you give me yours? Dear, can you grasp the proffered hand, do it gladly? My happiness hangs on the answer to this question. Indeed, at present I can't offer you riches or splendor. Still, dear, I can not have erred as to your beautiful soul -- you are certainly as indifferent to riches and splendor as I am. But I have more than I need for myself alone, enough for two young people to start a carefree, agreeable life, not thinking at all of my prospects for the future. The best that I can offer you is a true heart full of the warmest love for you.
Ask yourself, beloved friend, whether this heart completely satisfies you, whether you can reply just as sincerely to its feelings, whether you can contentedly make the journey of life hand in hand with me, and decide soon.
I have placed before you, darling, the desires of my heart in artless, but candid words. I could have done it in entirely different words. I could make for you a portrait of your charms, which you, although it would be nothing more than the truth, would have received as flattery; with burning colors I could make for you a picture of my love -- to be sure, there I would be allowed only the expression of my feeling -- a portrait of the bliss or disconsolation which await me ever after you have accepted or rejected my desires. But I didn't want to do that. At least, don't mistake the pureness of my unselfish love. I don't want to bribe your decision. In the sincerest concern of your life you must not allow any unusual considerations to influence you. You are not to bring a sacrifice to my happiness. Your own happiness alone must guide your decision.
Yes, dearest, so warmly do I even love you, that only possession of you can make me happy, if you are of the same feeling.
Dearest, I have exposed to you the inner part of my heart: passionately and in suspense am I waiting for your answer.
With all my heart,
Yours,
C. F. Gauss
Three months passed before the wooer received an answer to this letter. Johanna loved Gauss, but through idle gossip had heard the name of a wealthy young lady connected with that of Gauss. This report having been corrected, the two became engaged on November 22, 1804; three days later the young lover said to a friend, "Life stands like an everlasting spring with new glittering colors before me." On October 9, 1805, Gauss and Johanna were married and occupied the apartment he had had as a bachelor at Ritter's house.
Their first child, Joseph, was born on August 21, 1806; there are reasons for believing that he was his father's favorite child. Joseph became a Hanoverian artillery officer, and later visited the United States in the late thirties, then became Oberbaurath and member of the department of Hanoverian railroads and telegraphs, his death occurring on July 4, 1973. He married Sophie Erythropel, daughter of a physician in Stade, born on January 20, 1818, and died on April 10, 1883. One son was born to this union, Carl August Gauss, April 10, 1849, who married Anna Ebmeier, of Stolzenau. Their eldest son, Dr. Carl Joseph Gauss, born on October 29, 1875, is ordentlicher professor and director of the Women's Clinic at the University of Würzburg, Bavaria. He is noted for work in the field of X-ray, painless childbirth and twilight sleep. Carl August was the only grandchild of the mathematician living in Germany and died at his home in Hameln on January 22, 1927; his younger son Wilhelm lived at home with him, and his daughter is the wife of Judge Noeller in Gummersbach.
On November 21, 1807, Gauss and his family settled in Göttingen, where he had accepted the professorship which was to continue as his occupation for the remainder of his life. His second child, Minna Gauss, was born there on February 29, 1808. In 1830 she married the celebrated Orientalist and theologian, George August Heinrich von Ewald; they moved to Tübingen, where Ewald had accepted a position as professor of theology in 1837, and she died there on August 12, 1840, leaving no children. Her death was a severe blow to her father, who loved this daughter deeply; Minna is said to have resembled her father very much in personality. Ewald later returned to Göttingen, married the second time a Miss Schleiermacher, and was survived by her and one daughter, his death occurring on May 4, 1875.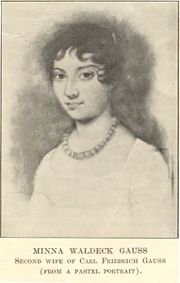 The third child of Gauss was born on September 10, 1809, named
Louis
, and Frau Johanna died on October 11. The infant died on March 1, 1810, and on April, Gauss became engaged to
Minna Waldeck
, the second and youngest daughter of Councillor Waldeck, a professor in Göttingen University. She had been a close friend of Frau Johanna. There were three children of this marriage:
Eugene, born on July 29, 1811, was educated at the University of Göttingen; he came to America in 1831, enlisted in the army, and was sent to Fort Snelling, Minnesota. At the expiration of his term of enlistment he became connected with the American Fur Company, later settling in St. Charles, Missouri, where he lived for many years. His death occurred on July 4, 1896, at his farm in Boone County, Missouri. He had various business interests, such as lumber, flour milling, etc. On February 14, 1844, he married Henrietta Fawcett (born on February 3, 1817), whose family had moved to Missouri some years before from Rockingham County, Virginia. To this union seven children were born, three of whom are now living. Henrietta Gauss died in November, 1909. Eugene Gauss was a Christian gentleman of high moral character and had intellectual qualities of a type similar to that of his father.
Carl Wilhelm, born on October 23, 1813, in Göttingen; he came to America in 1837, and had married Louisa Aletta Fallenstein, a niece of the astronomer Friedrich Wilhelm Bessel, shortly before sailing from Germany. He stopped at St. Charles for a short time, but moved to Glasgow, Missouri, where he engaged in business, later living on a farm near Brunswick, Missouri, but finally locating in St. Louis, in 1855, where he engaged in the wholesale mercantile business up until his death there in 1879. He was a very affectionate man, generous and possessed of splendid spiritual and intellectual powers. Two of his sons are living at present, one in Colorado and one in Missouri.

Theresa, born on June 19, 1816, and died childless on February 11, 1880; after the death of Frau Minna she assumed charge of the household, and with love and tenderness she faithfully cared for her father until his death. In 1856 she married an artist named Constantine Staufenau, with whom she had corresponded uninterruptedly for fourteen years. They lived in Dresden; Staufenau married again after her death, and his second wife returned in her will the property that had come from the Gauss family.
In 1808 Heinrich Christian Schumacher had come to Göttingen to study mathematics and astronomy; he and Gauss became the warmest of friends and scientific collaborators, their correspondence continuing up to Schumacher's death in December, 1850. In 1810 Gerling, Nicolai, Möbius and Encke came to Göttingen, which became the mathematical mecca of Europe. Needless to say, the fame of this town has rested on the Gauss tradition. He did not allow students to take notes in class on his lectures, for fear they would lose the thread of his argument. These men became very fond of their great teacher and later distinguished themselves in their chosen fields. The students would be seated around the large table in rather informal style, and Gauss would take great care to explain in detail every step in the reasoning -- something which a reader does not always find in his published works. On several occasions he complained of lack of ability or of preparation in his pupils, but these occasions are rare. Perhaps his most celebrated pupil was George Friedrich Bernhard Riemann, 1826-1866, the geometer, whose paper Gauss chose from the three themes submitted in 1854 to be read before the Philosophical Faculty. This monograph, "Ueber die Hypothesen welche der Geometrie zu Grunde liegen," immortalized Riemann's name in the discovery of non-euclidean geometry, and, indirectly, reflected to the credit of Gauss, his teacher, who had been meditating on the subject for some years, as we know from his letters and other evidence, although he never published anything on the subject. Riemann succeeded Dirichlet (who was Gauss's successor) in 1859 as professor of mathematics at Göttingen, which position he held until his death. It is said that Gauss often gave his students skillfully contrived mnemonic schemes to enable them to memorize very involved mathematical formulae. As for himself, we know that his genius had no difficulty in such matters, and that he also delighted in long, mental or written, arithmetical calculations, as did his son Eugene; both exhibited the utmost patience.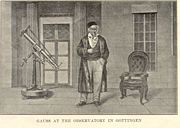 About 1810 Gauss interested himself in optics and also dioptrics. His results and formulae found practical application after his time. In 1840 he published his "Diotrische Untersuch ungea," and in 1843 he presented before the Royal Society of Göttingen, of which he was director, his "Dioptrische Studien." In 1812 he had published his treatise on hypergeometric series, and among other achievements placed the imaginary on a firm basis.
In 1818 Gauss was commissioned to carry out the triangulation of the kingdom of Hanover, following similar work of his friend Schumacher in Holstein, and later for all Denmark. This work occupied his time rather extensively from 1821 until 1826 and to some extent as late as 1848. This fact was lamented by some writers who felt that too much of his time was taken by trivial and routine matters which could have been handled by one whose time was not so valuable. He was assisted by Major Müller and his son Joseph Gauss. The science of geodesy reached a new point of development through his labors in this field. There were also several rather concrete results of this undertaking. The old geodetic instruments were unsatisfactory, and one afternoon (1821) while Gauss and his son Eugene were walking along, the father, noticing the light of the setting sun reflected from the window-pane of a distant house, thought of the heliotrope; in the simple form, this instrument consists of a plane mirror 4", 6" or 8" in diameter, which may be rotated about a horizontal or a vertical axis. This mirror is at the station to be observed, the sun's rays reflected by it impinging on the distant observing telescope. The heliotrope is used in geodesy for observing stations that are far removed from each other, is pleasant to operate, and to the observer it appears to be a star of the first or second magnitude.
In July, 1821, Gauss measured with this instrument the classic geodetic triangle, Hohenhagen, Brocken and Inselberg. To-day there is a lofty Gauss-tower on the Hohenhagen to commemorate the work of this scientist. In it there is a splendid marble bust of Gauss by the late Professor Gustav Eberlein, a Gauss-stone or marker which he used in his geodetic observations there, and also the first heliotrope. It is interesting to note that William II, as Kaiser, gave 4,000 marks toward the building of this tower. As final results of the geodetic work. we may consider "Disquisitiones generales circa superficies curvas" (1827) and the two "Abhandlungen über Gegenstände der höheren Geodäsie" (1843, 1846).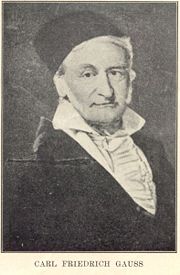 In the summer of 1831 Gauss had begun to study crystallography, but this subject did not make a great appeal to him, notwithstanding the fact that he made some valuable contributions to the science. At a scientific meeting in Berlin in 1828 he had met the young physicist, Wilhelm Eduard Weber, who, in 1831, accepted the professorship at Göttingen. Both were devoted to their own subjects, and they complemented each other. They collaborated in 1833 in producing the electro-magnetic telegraph, the signals being given by the deflection of a galvanometer needle. The wires extended from the observatory to the steeple of St. John's, and from there to Weber's physics laboratory. The inhabitants of Göttingen saw Wilhelm Gauss helping his father and Weber string up the wires over the house-tops, and upon their learning that it was to carry an electrical current, they became excited, so that Weber had to write to the magistrate to explain the purpose. The line was destroyed by lightning in 1845. It is beyond the projected scope of this article to describe in detail the telegraph which they used, but is sufficient to say that they devised an alphabet, and could send messages accurately, with a speed of about seven or eight words a minute, by using an induced current. Germany has always been proud of these two men for such an early achievement. Gauss lived to see some of the development of telegraphy, and always took great pleasure in noting it. His system was readily applied by Lord Kelvin to ocean telegraphy. The last letter of Gauss, written to Sir David Brewster, was about the early telegraph.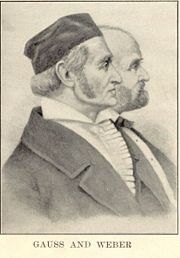 It is significant to note that both Gauss and Morse attached military importance to the telegraph. The former, in a letter to Schumacher, mentions the fact that the Russian czar might transmit his orders immediately from Petrograd to Odessa; Morse wrote a letter to the new republic of Texas, offering the government his recent invention of the telegraph, pointing out the military advantages of such a contrivance. It was, of course, not accepted.
Gauss and Weber investigated the science of magnetism very thoroughly, and laid the foundation for the modern study of it. They formulated fundamental laws and theories in this field. Two magnetic units are named in their honor. Through their efforts and the efforts of Humboldt were established observatories for terrestrial magnetism. Gauss invented the bifilar magnetometer which is used to measure changes of horizontal force; in the mechanical constructions he was ably assisted by Johann von Lamont, a Scotch Jesuit, then living in Germany. Regular magnetic observations were started in 1834; already in 1833 gauss had published his "Intensitas vis magneticae terrestris ad mensuram absolutam revocata." Together with Weber he published in 1840 an "Atlas des Erdmagnetismus"; then came the important "Resultate aus den Beobachtungen des magnetischen Vereins" (1837-1843).
On April 18, 1830, frau Dorothea Gauss, the mother of Carl Friedrich, died; she had always been very proud of her only son, and he showed the greatest affection for her. She had become blind several years before death, but this did not stop her usual activity. Gauss was an excellent father to his family; he loved social intercourse and conversation; in his home he was always glad whenever the simple meal was accompanied by some discussion or poetic subject. In the family nothing was too unimportant; for instance,, he kept in a note-book the dates when his children cut their teeth, and he kept a register of all the keys to the rooms of his observatory and his home. He was very fond of music, especially singing. Whenever he heard a beautiful song he would go and write it down. Frequently he played whist. He had a subtle, keen sense of humor which might manifest itself in friendly satire. In his later days Gauss would go daily to the so-called literary museum to consult the many newspapers there, where he was known as a Tiger for News. What interested him especially was political and financial news. He was always solicitous about the welfare of his country, particularly during the Revolution of 1848, probably because he thought back to his experiences during the Napoleonic wars; he used to say, "Mundus vult decipi." Gauss knew how to invest his money well, unlike many men of science, leaving a large estate at his death. It is said that the czar of Russia once offered him a post as minister of finance, and also that he once refused an offer of a title of nobility. He never wore any of the many decorations which the different governments had showered on him. His daughter Theresa, in a letter on the celebration of his fifty years' doctorial jubilee, bewails the fact that none of his beloved sons could be with him on his day of triumph.
Gauss did not like to travel, and from 1828 (his trip to Berlin) until his death, only once did he spend a night away from the observatory, it being in 1854 when he attended the opening of a railroad and saw a locomotive for the first time.
About 1840 he studied Sanskrit, but only for a short while. He was acquainted with the modern European languages and could speak many of them. In his sixty-second year he took up the study of Russian, and in two years he had mastered it completely, being able to speak it and to do his correspondence to Russia in the native tongue. He had probably been urged to do this by a desire to read Lobachevsky's work on non-euclidean geometry in the original. He read English often, in his last days completing Gibbon's "Decline and Fall of the Roman Empire," and the works of Sir Walter Scott, which he greatly admired.
Gauss considered all philosophical ideas as subjective; he was possessed of great religious tolerance, which must not be confused with indifference. He also held that one is not justified in disturbing another's religious belied, in which they find consolation for earthly sorrows in time of trouble. The striving after truth and righteousness were the foundations of Gauss's religion. He believed firmly in the immortality of the spiritual individuality, in a personal permanence after death, in a last order of things, in an eternal, righteous, omniscient and omnipotent God. In his own life he exemplified these teachings, being a man of great generosity, kindness and meekness of spirit. His neighbors applied to him the phrase: "Modest and simple, but worthy and strong."
Gauss had excellent health, a strong constitution, had never been seriously ill, but in the last two years of his life he suffered from insomnia and several other ailments of old age. At last dropsy and heart failure developed, and he died on February 23, 1855, surrounded by relatives and friends. On the morning of the 26th, amid a large gathering of students, friends, townspeople, relatives and officials, his funeral was held; Sartorius Wolfgang von Waltershausen, his close friend, and Ewald, his son-in-law, delivered the funeral sermons, and after several hymns, including one of Luther's, and the chaplain's benediction, he was laid to rest in the old churchyard near the Albanitor in Göttingen. The one word GAUSS is engraved on his tombstone, which is unpretentious and plain -- in keeping with the character of the noble man. It is a fact interesting to psychologists that R. Wagner studied the brain of Gauss, and found its weight to be 1,492 grams and cerebral area equal to 219,588 square centimeters, in whose highly developed convolutions perhaps lies the explanation of his genius.</p>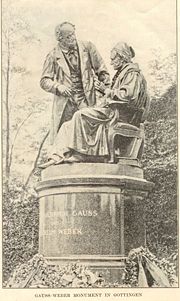 After his death this powerful mathematician was widely honored. There may be mentioned the Schaper monument in the park on the Gaussberge in Brunswick, his birthplace, and the Gauss Bridge in that city. Many streets have been named for him. In Göttingen, there is the Gauss-Weber monument, by Professor Hartzer, in honor of their invention of the telegraph. On the Potsdam bridge in Berlin, beside Siemens, Helmholtz and Röntgen, stands a masterful monument of Gauss by Professor Janesch, who has also made for the Royal Agricultural Ministry in Berlin a marble bust of Gauss. Another bust is in the Main-Hall (library) of the University of Göttingen. The ship which made the South Polar expedition in 1901-1903, under professor von Drigalski, received the name Gauss. His centenary was widely celebrated in Germany, many memorial addresses having been published on April 30, 1877. At the present time, a Festschrift is to be published in Brunswick on the occasion of the sesquicentennial of his birth.
After the death of his mother, Gauss had not been in frequent correspondence with his brother George Heinrich, who early in life had been afflicted with severe eye trouble. He had become a member of the artillery, which was then composed of the children of the upper class, more than other branches of the army, and so received better treatment. Outside the service, which allowed much freedom -- he had to assist his father in his work. Under these circumstances there could not be much hope of promotion, and so after the catastrophe of 1806, he went back home to continue his father's gardening and casket-making. George Heinrich died in his eight-sixth year, on August 7, 1854, and Carl Friedrich wrote the following rather touching letter to his nephew Gebhard:
I received the sad tidings of your letter of the eighth with heartfelt sympathy. It was grievous for me that for several years I had remained without any news of my brother. As long as Professor Goldschmidt lived, I was always intouch with Brunswick, because he was accustomed to journey there twice a year to his father who was then still living, and then always made inquiry about the conditions of my brother, and communicated it to me. But Professor Goldschmidt has been dead now for several years, just as all the friends of my youth there. It is the lot of humanity, when one gets old. I am already in my seventy-eighth year, but I will not equal my brother, because I have been feeling the diminishing of my strength for a year. I am unusually glad that I must infer from your letter that the last years of my brother's life were alleviated, as much as the course of events allowed, by the loyal care of your mother, to whom I ask you to convey my heartfelt condolences and greetings.
For thirty-three years I have not seen my native city, and even then for just one day. Now the journey is considerably shortened by the train, because one can come there from here via Hildesheim or Hanover in six or seven hours now, and I suppose in one or tow years, when the side-line is opened, in half the time. Whether I will survive until that moment, or whether my strength will permit me to make use of the train, in order to see my native city just once again, is questionable. But it always remains my sincere wish that everything may be well with you and yours.
Within six months Gauss himself was no longer among the living. The following letter of his physician, Dr. Baum, who attended him with unremitting care, written to Humboldt, is interesting in that it gives us a glimpse of the last days of the celebrated mathematician:
Göttingen, May 28, 1855
Your Excellency:
If I had been obliged to prepare you for the sad news before the death of our great mathematician, the news, which is now the more unexpected, struck the more painfully for that reason: but I was at that time so completely claimed by the medical care of the venerable man, who in his last months saw only his daughter and me around him, besides the many duties of my vocation, that I therefore ask for indulgence.
As we were talking in the presence of Professor Dirichlet, whom we now call our own with happy pride, a great deal about the last conversations of Mr. Gauss, he urged me to communicate to Your Excellency that Gauss at the last often thought of you, and with much love. Your last letter made him especially happy and he read it repeatedly and let me read it aloud. When he was taken unawares by the apprehension that a more advanced old age might bring to him aggravated complaints, he said: "then the thought of my Humboldt consoles me" -- an epithet which I have heard him apply to no other name. With joy he believed he recognized your hand in the translation of Arago's Works, where the number of those men is mentioned to whom a final judgment belongs regarding exact experiments: the number in the original is given at about ten, in the translation at about eight: he thought that this diminution, which suited him exactly, could have proceeded only from Your Excellency.
The last days of his life were often very painful owing to the aggravated complaint of dropsy, which the hypertrophy of his heart produced -- but still he always maintained his freedom and greatness of spirit, the strongest conviction of his personal permanence, the firmest hope in the still deeper intelligent insight into the number-relationships, which God places in matter and which he would perhaps be able to recognize in the intensive magnitudes, for he used to say 'o JeoV' ariJmetizei. (God arithmetizes).
Thus he remained consistent up to the end, so that even in the last weeks he read through the Book eritis sicut deus, not without vexation, "for the people would be speaking about things, all means of judging which they lacked," but he put an end to it nevertheless, although he thought it once made a sleepless night for him.
Only in the last eighteen hours did consciousness leave him, only now and then did it come back for a short time for an utterance of love or for a desire -- then silently he slept away.
May these few words be not disagreeable to Your Excellency, these words, which I wrote in the most respectful and grateful love, in which I remain even to the end
Your Excellency's most truly devoted
Baum.

The following words inscribed under the portrait of Gauss in the Munich Museum best summarize the work of this scientist:
Sein Geist drang in die tiefsten Geheimnisse der Zahl, des Taumes, und der Natur; Er mass den Lauf der Gestirne, die Gestalt und die Kräfte der Erde; Die Entwickelung der mathematischen Wissenschaft eines commenden, Jahrhunderts trug er in sich.
---
↑ This is really worth a look; there is a video of the process, which is quite interesting -SDC
Source
Reprint in the private collection of the Chambless family. Transcribed to softcopy by Susan D. Chambless, June, 2000.
Used with permission of American Association for the Advancement of Science, by letter dated June 12, 2000.
Readers may view, browse and/or download material for temporary copying purposes only, provided these uses are for noncommercial personal purposes. Except as provided by law, material may not be further reproduced, distributed, transmitted, modified, adapted, performed displayed, published, or sold in whole or in part, without prior written permission from the publisher.
See also http://www.sciencemag.org
Notes
This page moved here from rootsweb by --Bob Chambless 15:17, 23 December 2007 (CST)

, reformatted by Susan 12:09, 2 June 2010 (UTC)