WTGC-p206
From Gauss' Children
Ancestral Lines of Helen Worthington Gauss, p206
Gauss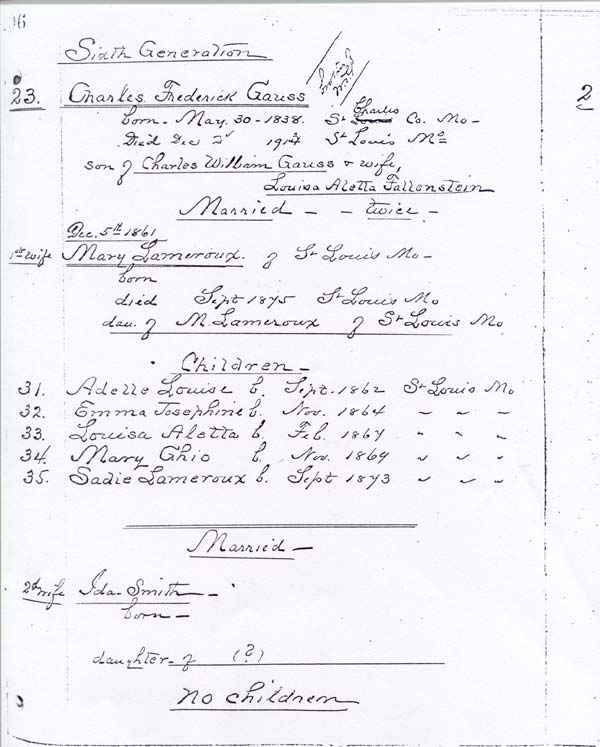 Notes
Mentions
Parents:
First Wife:
Children:
Second Wife:
Source
The William T. Gauss collection is a photocopy of that collection started by William T. Gauss, his wife, Helen Worthington and his cousin, Robert Gauss, and continued by William's daughter Helen Worthington Gauss. One of her cousins, Helen Worthington Sansone, requested and received a photocopy of the original collection. She arranged for an index to be made, but died before it was completed. She belonged to the Daughters of the American Colonists, which donated a photocopy (of the photocopy) to the St. Louis Public Library, where it was bound into a hardback volume. I photocopied that 2nd generation photocopy, then scanned it, but later acquired Helen Worthington Sansone's 1st generation photocopy. Susan 11:25, 31 March 2008 (CDT)
A note on autoindexing
Auto-indexing does not happen by magic. It is dependent on pages being marked as "mentioning" the individuals to be auto-indexed. When this has been done, and the appropriate queries have been placed on this index page, all pages which have been marked will show up here. The "auto-indexed" tag is temporary to let us know what has been done and what has not. The magic comes because once it has been set up, any pages marked as mentioning a person will automatically show up here.